The InterAmerican Heart Foundation (IAHF) needs your support to continue advocating with governments for policy change, to strengthen civil society, to perform relevant local research, and to educate the public on the risks of cardiovascular diseases.  Heart diseases and stroke are the first cause of death in the Americas and most of the world, costing us all so much in lives lost and in high costs for treatment.
The good news? These diseases are largely preventable.  At the IAHF we are acutely aware of the challenges, particularly the need to reach the most vulnerable populations. This is the time for innovative thinking, new approaches and, above all, the time for a fighting spirit.  We need you to be part of the effort to continue to support heart health for everyone. Please help if you can. Your contribution makes a difference!!!
Consider donating to the InterAmerican Heart Foundation and join our list of Individual Benefactors.
Contribute via Paypal:
Please consider making a one time or monthly recurring donation to the InterAmerican Heart Foundation via Paypal.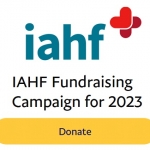 .
.
.
Donate via Check:
Please send your contribution by check drawn on a US bank to:
InterAmerican Heart Foundation, Inc.
PO Box 1972
Palm Springs, CA 92262, USA
Donate via Wire Transfer:
You may also send your contribution via wire transfer. For more information, please contact Mr. Javier Valenzuela, Chief Operating Officer, via email.
For sponsorships, research or other special arrangements, please contact Dr. Eugenia Ramos, Executive Director, via email.